BBQ Grills
º Twin Eagle º Weber º Bull º Fire Magic º Big Green Egg º Napoleon Grills
Grills » Parts » Accessories » Propane Filling - - - Lowest Price on Grills @ (631) 296-0813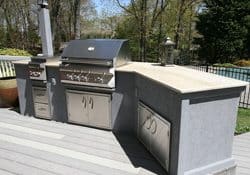 Summer is all about spending time outdoors and enjoying your weekends and summer holidays with family and friends and nothing says summer quite like the smell of some delicious food grilling on your favorite barbeque. There is nothing worse than taking the cover off of your grill and having your favorite cuts of meat ready to sear, only to realize that you just can't get your grill to fire up. If you have a great grill, then that is something that you shouldn't have to ever worry about.
BBQ Grills
It's not hard to find a grill nowadays, anywhere you go. From big box stores all the way to the supermarket, it seems as though everyone is trying to sell you a grill. If you're serious about the quality of your food and the quality of the machine that you're cooking it on, then look no further. We have been selling and servicing BBQ grills for years and we know exactly what we're doing. Our experience and commitment to quality have made us a top pick for BBQ grills year after year.
The selection of BBQ grills that we offer is second to none. We carry top quality brands like Fire Master, Weber, Big Green Egg, Broil King, Bull Grills, and Twin Eagles. We listen to our clients to determine what their grilling or smoking needs are and make recommendations based upon that. Our BBQ grills staff are knowledgeable and courteous and our prices can't be beat. Whether you're looking for BBQ grills as a weekend-griller or a full-time grill master, we have the selection and service that keeps our customers coming back, time and again.
BBQ Replacement Parts
Although we only sell the best brands on the market, any grill owner can tell you that you will inevitably need to change out a few parts here and there. We are just the place to come for all of your grill replacement parts. We have replacement parts for all major brands and even carry universal parts for brands that we may not carry. From heat plates, grates, gas couplers and burners, we carry everything you need to keep your grill running at its peak performance. Many grill enthusiasts will immediately run out to buy a new grill once theirs stops working or isn't performing well. Often times this is unnecessary and is a total waste of money. Our grill experts can tell you what's wrong with your grill and what part you will need to fix the problem. Keep in mind that fat drippings and the cold and hot elements that your grill is exposed to can burn out pieces that should be replaced. For optimal performance, many grills have parts which the manufacturer suggests should be serviced or upgraded each year. This keeps your grill operating at its best and also keeps you and your family safe around a lit grill. Before you consider buying a new grill, you should consider replacement parts as a less expensive alternative to purchasing an entirely new grill.
BBQ Brands & General Services
Grills
BBQs
Big Green Egg
Mojobricks
Patio Heaters
Propane Heaters
Repair Service
Cleaning
BBQ Parts
BBQ Accessories
Outdoor Kitchens
Propane
Generators
Propane Filling Station
Bull
Twin Eagles
Fire Magic
Weber
Big Green Egg
Vermont Casting
Camp Chef